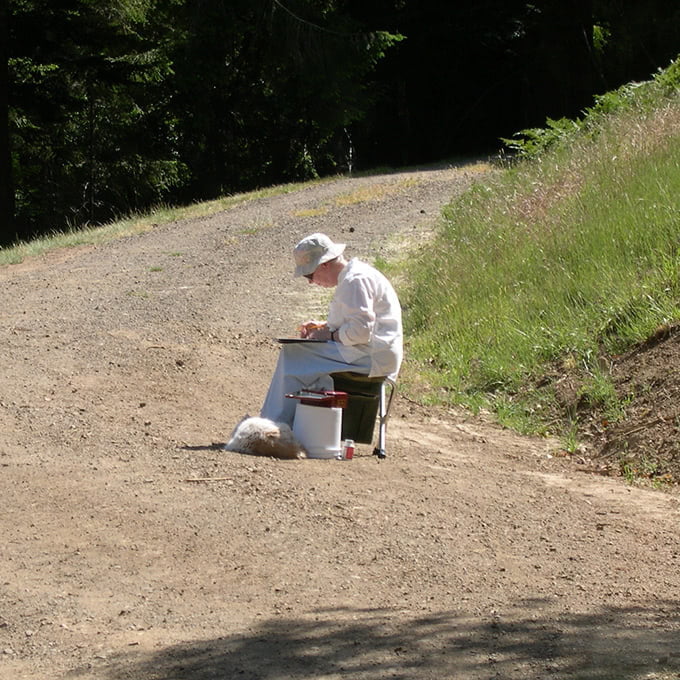 Why did I come to the monastery?
Since junior high when we studied medieval Europe I had felt drawn to monasteries. I entered an Active teaching order when I turned 18 and there became interested in the House of Prayer Movement and learned about Redwoods Monastery. I made a retreat at Redwoods when I was 23 and as I was leaving I knew I could not enter then but was left with a sense of maybe someday. My life shortly after went through many upheavals and changes. At 29 I found myself living again in California and near Redwoods Monastery! At 36, I entered because the call was too strong to ignore any longer God's leading. I needed to turn my life into a life of worship and I needed community and structure to accomplish this and Redwoods is where I had been led to.
There has always been a strong desire to allow God's will to lead me, a sense that to become who God had created me to fully become, my will and God's will needed to be united and I strongly sensed in looking at the events of my life that this was God's leading, God' desire and need in me. And I have sensed that through thick and thin leaving could not be my choice alone and a knowing that to be true to my deepest self this is where I need to be. There is more and more a growing sense of gratitude. The image came to me recently that amidst the chaos, suffering, war, displacement, we are a little garden of flowers that God and our world needs. It brought me back to the image I had as a girl wanting to teach art to poor troubled kids to see the flower growing through the crack in the asphalt or the beauty in wild straggly flowers growing in an empty lot. I feel like we are somehow that-quite useless and quite necessary
(O God) Indeed you love truth in the heart; then in the secret of my heart teach me wisdom.
I ask of You this day, the grace to become a servant and to give my life here as a ransom for peace as a ransom for life. Jesus, draw me into Your joy of crucified love.
(Fr.Christophe, martyr/monk of Atlas, Algiers, quoted in How Far to Follow? Bernardo Olivera, OCSO)